"Among the half dozen most remarkable men I have ever met..."
Colin Wilson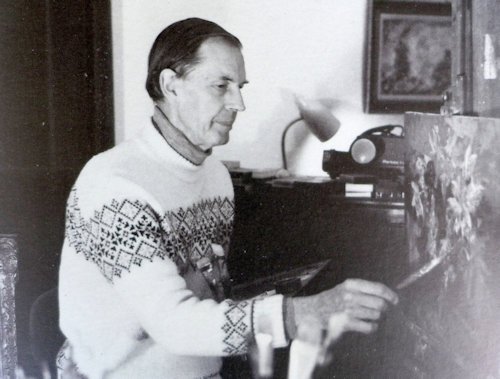 William Arkle was born in 1924. He lived and was educated in Bristol.
During WW2 he served as an engineering officer in the Royal Navy. It was at this time that he first developed an interest in drawing. After the war he went on to train at the Royal West of England Academy. After his first marriage ended in divorce, he married for a second time in 1956, all the while continuing to develop his unique style. His first book, "A Geography of Consciousness" a largely intellectual text, was published by Neville Spearman in 1974. Featuring a forward by Colin Wilson, the two writers enjoyed a lifelong friendship. A second book, "The Great Gift" heavily illustrated and concentrating more on his paintings and poetry, was published in 1977. His paintings featured as the main exhibit at the first Festival Of Mind, Body & Spirit" at Olympia , London in 1976. A half-hour documentary about his life and work was made by the BBC at this time also. Arkle continued to paint, write and compose music, exploring newer technologies such as computer art and audio-visual presentation until his sudden death in October 2000, six months after the death of his second wife, Elizabeth. His work has been described as akin to that of a 'latter day William Blake' And whilst his paintings comprise the main body of his catalogue, he also wrote books and composed music in support of his ideas.
William Arkle's works are in private collections in the United Kingdom, Germany, Holland and the U.S.A.