"Among the half dozen most remarkable men I have ever met..."
Colin Wilson
"A beautiful enlightening experience to witness William Arkle's vision"
Tracey Emin CBE RA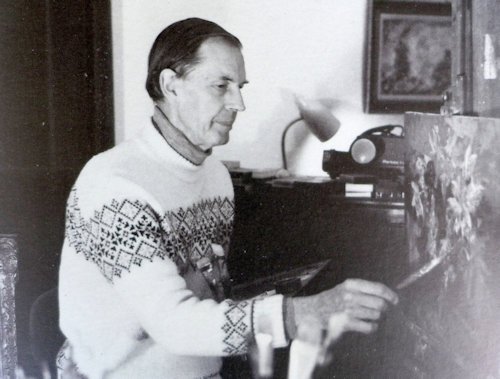 'A Tree Filled With Angels'
The Paintings of William Arkle
By Nick Arkle
August 22nd 2021 - the official opening of 'Into The Light' a new Exhibition of the paintings of William Arkle at the William Arkle Gallery, Banwell, North Somerset.
Bristol and the Early years
My father was born in Bristol in 1924, the middle child of a very middle class family. Like most young men of his generation, he was called up, joining the navy during WW2 where he trained as an engineering officer. He served on a minesweeper in the Far East during the last year of the war, and surviving sketchbooks show that he had whiled away some of the time at sea by drawing shipboard life.
Post War 40's and 50's
After the war my father was demobbed and given a modest grant to help him back into 'civvy street'. He chose to use this to study art at the Royal West of England Academy, Bristol. Some drawings from this period survive, but he didn't complete his time there, preferring instead to leave and follow his own emerging style.
After A brief first marriage ended in divorce, my father travelled to Paris and painted there for a while, drawing inspiration from French impressionism as well as the works of Chagall and Picasso. In1956 and back in Bristol, my father met my mother when she was persuaded to 'come along to some Clifton art event and meet this 'Bohemian artist fellow'. Despite the misgivings of his future mother in law, who really wasn't sure this 'divorced artist' was good enough for her working class daughter, they married soon after. Modest beginnings saw them living briefly in a garage in St Ives, before moving to rented accommodation in London for two years, where my father continued to develop his style and ideas as well as accepting portrait commissions, one notably from a glamourous opera singer.
A Georgian Ruin early 60's
My parents then moved back to Bristol and in order that my father could find time to paint. they bought a ramshackle house in Clifton and took on a number of lodgers, including many actors studying at the nearby Old Vic theatre school. Like minded souls would meet at the house for musical and artistic evenings, and my father became involved with a local poets group, Unicorn. It was about this time that I came along, so my parents decided to move us all out to a dilapidated property just outside Bristol in the small village of alveston, nr Thornbury, renovating the property with another family who lived in the other half of the house. The house had a small paddock attached, allowing my mother to indulge her love of animals. I would like to use the blanket term 'horses' at this point, but the actual beasts acquired were more usually 'ponies' particularly miniature shetlands, which were useless for anything other than dangling toddlers on their backs, one of which was my younger sister, Rose, who was also born around this time. With space now for a dedicated, albeit modest studio, my father continued to develop his very unique style and I can still remember the distinctive aromas of oil paint, Indian ink and hot beeswax that filled that room.
The Professor's House, Bristol mid 60's
Around 1965, we moved back to Bristol to an old victorian property that had just been vacated by a professor. The professor had very kindly left his entire, extensive and eclectic collection behind. everything from hundreds of glass slides to geological samples and even dinosaur bones, as children, we found the latter especially fascinating. I even recall a small tin containing some poor woman's gall stones.
My father created a modest studio on the top floor of the house and the music of Vaughan Williams and Delius, two of my father's favourite composers, were often to be heard drifting down the stairs along with the smell of incense. This was of course, the 'swinging sixties' and the occasional 'hippie', some attired entirely in purple or tie-dyed batik, would visit to learn more about my father's 'far out' paintings and the spiritual philosophy that lay behind them. There were also more intellectual friends like the writer Colin Wilson, one of the fifties 'Angry young men' newly famous for having written his bestselling debut 'The Outsider'. Colin also wrote the forward to my father's first book, 'A Geography of Consciousness', a complex treatise of his philosophical ideas which was still being written at that time.
The House on the Hill 69 - 83
To help make ends meet, my mother continued to deal in antiques, buying old oil paintings at auction which my father would then clean-up and restore. It was whilst they were on a trip to collect such a painting, that my parent's discovered their next and most memorable home, Backwell Hill House. A sprawling early nineteenth century mish-mash of a mansion with some forty rooms. At the time this was being used as a monastery. Unbeknown to my parents, the order was looking to sell and there were just two monks left rattling around in the property when we bought it. Although the sale particulars neglected to mention that there were also more than a few ghosts, the property turned out to be quite 'haunted' in fact, with various strange phenomena occurring during our time there.
We moved in during the summer of 1969, just after the excitement of the moon landing, and so began perhaps our greatest adventure, ghosts notwithstanding. There were two main advantages to living at Backwell for my father, there was a ballroom sized space for his studio with magnificent views over the Bristol Channel and the monks had built a modern A-frame chapel at one end of the house where the conservatory had once been. This was essentially a large wood and brick lined space with a high ceiling and largely devoid of any detail, ecclesiastical or otherwise. This created in effect, a perfect space in which he could exhibit his paintings. most of the works were quite large, typically four feet by three, some larger still, and their number now exceeded a hundred or more. There were Wine and Cheese evenings too for other local artists. My father would carefully take down all his paintings and hang their works instead. These evenings typically drew hundreds of guests, who, after a couple of glasses, began to out whip out their cheque books, and the 'red dots' would soon start to appear, with a third of the proceeds going to Various children's charities.
My mother, who now had even more paddocks at her disposal, ran riding for disabled days and rescued countless animals, everything from miniature shetland ponies and old racehorses. There were also wayward goats (that tried to eat our old caravan) and motherless lambs that wore nappies so they could run around the house. We also helped quite a few lost human souls as well, none of the house's numerous 'spare bedrooms' remaining unoccupied for long. Interest in my father as a kind of 'latter day William Blake' grew and we had a number of visitors from all over the world. The BBC made a documentary about our life there entitled 'Bill Arkle, Life Story' and 'A geography of consciousness' was finally published. A selection of some twenty paintings were exhibited in a specially built dome as the centrepiece of the first ever 'mind, body, spirit' festival at Olympia in London in 1977 and my father continued to have a presence at the festival in later years. It was during our time at Backwell that my father began experimenting with audio-visuals of his paintings as well, using two slide projectors to create elaborate presentations synchronised to his own improvised 'meditative piano' music or a particular favourite of his, Barber's Adagio. The medium of light being projected through the slides lending itself perfectly to the luminous nature of his work.
Wiltshire, A Brief Detour 83-85
By the early eighties, Life at Backwell had become more problematic, the place was nearly impossible to heat in the winter (The boilers got through half a ton of wood a day) and the house required constant maintenance. So when a local builder offered to buy the property, my parents, perhaps unwisely, as my mother later regretted it, decided to sell up, despite the fact that we had found nowhere else to go. A property was eventually found, many miles away in Wiltshire, but it was not the greatest match, something of a pale imitation of 'life at Backwell' and we left after only two years.
The House under the Hill 85 - 2000
Ironically, having quickly sold up, we found ourselves back at the foot of backwell Hill again, this time, in a delightful sixteenth century thatched property that seemed to grow organically out of the hill. this was much smaller and more manageable. My father made use of an old barn as a studio which gave him the space to further develop his audio-visuals whilst his painting style also continued to evolve. He began to experiment with a more 'electronic' palette, creating many impressionistic landscapes and abstracts in oils as well as experiments with computer art, using an early iMac. In April Two Thousand my mother died at home there after a long illness. If this was in many ways expected, my father's sudden demise only six months later was not. He died unexpectedly on the fourth of October of a heart attack, just a few weeks short of his seventysixth birthday.
With My sister and I Lacking the space to display them, most of his works have reluctantly had to be kept in storage. It was with great excitement therefore that my wife, Tara and I created a new gallery for his work which has brought many of his greatest paintings back 'Into The Light'.